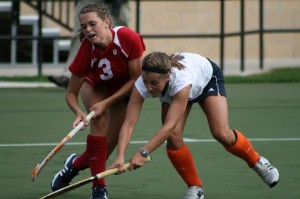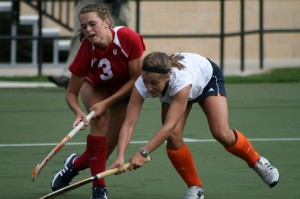 By Joyce Novacek
Contributing Writer
The field hockey team finished its home stand with consecutive stroke-outs, defeating Sacred Heart 4-3 on Saturday afternoon and losing to Indiana 2-1 on Sunday.
Tough defensive play from the Bison held the Pioneers scoreless during the first 40 minutes of play. Offensively, the Bison dominated Sacred Heart in the first half, outshooting the Pioneers 13-3. Morgan Kauffman '11 and Tayler Siegrist '13 each netted a first-half goal, sending the Bison into halftime with a two-goal lead.
The Pioneers came out attacking in the second half. Less than 10 minutes into the second frame, Sacred Heart netted two goals and tied the score.
Rachel Misko '14 responded with a goal, lifting the Bison up 3-2, but the Pioneers knotted the score at three with less than a minute to go, sending the game into overtime.
Impressive defensive performances from both teams resulted in a stroke out. Corinne Raczek '11, Siegrist and Christine Weiss '11 each scored in the stroke off, and, thanks to a pair of saves by Sarah Zagarapour '12, the Bison claimed a much-deserved win.
After playing 100 minutes of hockey Saturday, the team had minimal recovery time before Sunday's Big Ten match up.
"Going into the weekend, we tried to focus on working together as a team and not individuals, and I think we did that successfully both days," Vicki Resh '14 said. "We also knew that after playing two overtime periods and going into strokes on Saturday, Indiana was going to be tough … although the outcome wasn't quite what we had hoped for, we can proud of our performance."
Sunday's game against Indiana was another tight one for the Bison. After a scoreless first half, the Bison went up 1-0 when Rachel Misko '14 scored the first goal of the game and her fourth of the season. Misko's goal was assisted by Kelly Bruvik '11 off a Bison penalty corner. The Bison held their lead for almost 20 minutes until Indiana's Lena Grote tied the score.
After the Bison and Hoosiers played two scoreless periods of overtime, the Bison faced their second stroke out in two days. The Hoosiers connected on seven out of nine strokes to defeat the Bison's six out of nine.
Despite the close loss on Sunday, the team had a positive reaction to its play at Graham Field.
"I think we proved how competitive we can be with a Big Ten school, even after playing a lot of extra minutes of hockey the day before," Weiss said. "We played some really great hockey this past weekend and should have a lot of confidence going into our first round of Patriot League competition."
On Saturday, the Orange and Blue travel to Worcester, Mass. to take on Holy Cross and open Patriot League play. On Sunday, the Bison travel to Cambridge to play Harvard.