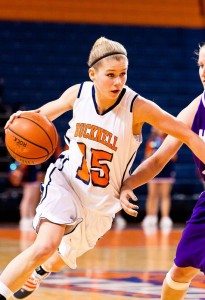 By Cooper Sutton
Sports Editor

Playing in orange and blue was not even on first-year basketball star Shelby Romine's radar in high school. Before she was recruited, she had never even heard of the University. What she has found since then is a place where she can immediately take control of a program, providing the most explosive force on her team, even as a first-year.
In her first year for the Orange and Blue, Romine, point guard of the women's basketball team, started all 28 games, leading her team in scoring with 13.5 points per game, a full six points above the next-highest scorer on the team.
"Shelby had a tremendous freshmen year, making an immediate impact not only on our program, but on Patriot League women's basketball," women's basketball head coach Kathy Fedorjaka said.
From her very first collegiate game, Romine made her presence clear. Against Rider in the opener, she was the highest scorer for her team with 17, leading the Bison to a 53-48 win.
This was not a rare occurrence. In the 28 games played this season, Romine led the team in scoring an astonishing 16 times, going for more than 20 five times. On Jan. 22, she led her team to a huge league win on the road at Colgate in overtime, dropping a dazzling 28 points. No other member of her team would eclipse that single-game mark in the 2010-2011 season.
"I was impressed immediately with her work ethic, skill level and level of conditioning, and she showed tremendous poise and confidence as a freshman," Fedorjaka said. "She was a tremendous addition to our team in terms of giving us another strong ball-handler and lead guard, as well as a great scorer and creator on the offensive end of the floor."
Offensively, one of Romine's strongest aspects this year was her shooting. From beyond the arc, she was by far the most potent Bison shooter, hitting more than 40 percent of her shots. With 47 threes on the season, Romine finished more than 31 ahead of the next player on her team.
From the free throw line, she also posted team bests in percentage and shooting. Her percentage of .734 edged out that of her teammate Rachel Voss '13 at .733. She outscored the second-place member of her team in free-throw points Joyce Novacek '11 80-47.
Romine is more than just a scorer. As a point guard, she also led the team in assists with 101 and steals with 37.
Despite her incendiary individual statistics, Romine remains focused on the team as a whole.
"The most exciting moment of freshman year was being picked last as a team in the preseason polls but getting the fourth seed in the tournament," she said. "It was so great to win the first round game and move on to the second round of the tournament. This experience will definitely help the team to get better next year."
It was this kind of attitude that garnered Romine respect beyond the court, winning over both her teammates and her coaches.
"Outside of her production, Shelby is extremely coachable and was very well-liked by her teammates," Fedorjaka said. "They had a great deal of respect for her and confidence in her on the floor."
Romine navigated her first year of college basketball so well both on the court and in the locker room that it should come as no surprise that her most challenging obstacle this year came from outside the realm of athletics. At heart, this budding basketball superstar found the most difficulty in being away from home.
Holding family values close to heart, she found it difficult to be away from her family, especially during basketball season. According to Romine, her family has been a key component in all the success she has found.
"I think a huge factor that played into being successful during the season was the preparation I did in the summer months with my dad," she said. "He was always willing to help me. Countless times I remember him leaving work early to go to the gym and shoot with me, and he'd even time my sprints. If it wasn't for him, I wouldn't be anywhere near where I am today."
Clearly, Shelby's hard work with her father has paid off. With only one year of college under her belt, she has already cemented herself not only as one of the most dangerous players on the Bison, but also one of the most explosive in the entire league. And with a strong work ethic and a generally positive attitude, she seems poised to achieve much more.