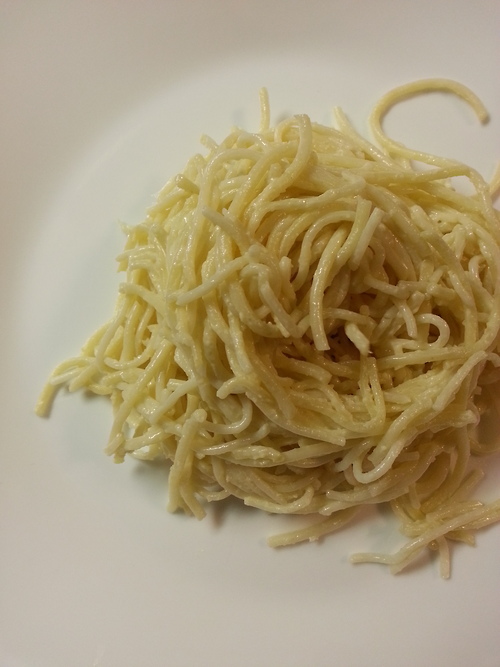 Pasta with Garlic Alfredo Sauce
I grew up addicted to Alfredo sauce and with this healthy, protein-filled, super low-fat and drastically lower sodium version, I can have it anytime! This recipe is just the pasta and sauce–I left it up to you to add in whatever beans, vegetables, soy products or meat you like (personally my favorite way to enjoy this is with oven-roasted veggies, but when I made this for friends last Friday, I paired it with some delicious turkey meatballs.)
247 calories, 4 g fat, 43 g carbs, 10 g protein
Makes 4 servings
Ingredients
4 servings Ronzoni Smart Taste pasta
1 egg yolk
1/4 cup parmesan
1/4 cup fat-free half-and-half
1/2 cup skim milk
1 Tbsp Land O' Lakes light butter
1/4 tsp garlic salt
Directions
1. Cook pasta.
2. Over low heat, melt butter with milk and half-and-half.
3. When warm (about one minute later) add egg yolk. Whisk briskly (to prevent egg from scrambling) for 1-2 minutes.
4. Add parmesan and garlic salt.
5. Toss in pasta and anything else you want in it!