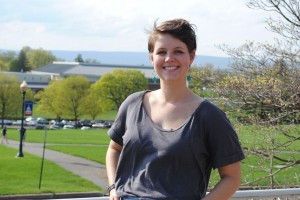 By Olivia Seecof
Writer

Kristin Vallis '11 from Ridgefield, Conn. originally came to the University to play water polo, but that is not what defined her during her time here. Vallis' work in the Office of Lesbian, Gay, Bisexual, and Transgender Awareness (LGBT) has earned her a Person of the Year award.
"I started working there sophomore year because I didn't know what else to do with myself after coming out freshman year," Vallis said. This year, Vallis was the office manager and attended four different national conferences on behalf of the office.
"Kristin's continued presence in the office this semester has simply been invaluable as we have been continuing the good work that began under Fran McDaniel's leadership," said Tracy Shaynak, director of the Women's Resource Center.
Vallis is graduating with a bachelor of science degree in biology. In addition to her work in the LGBT Office, she is a member of Kappa Alpha Theta sorority, studied abroad through the Semester at Sea program and was a member and Junior Fellow of the Environmental Residential College.
Vallis' efforts in all that she does have proved to be very inspiring to everyone she comes across. "She taught me to always 'do you,'" Stephanie Walters '11 said. "I don't know if she even realizes but when we met during recruitment, she encouraged me to continue being myself."
McDaniel had a significant impact on Vallis, and losing her was difficult. "Fran always gave me space to figure out who I was," she said. "Fran did so much [for the office], but we couldn't depend on her anymore. We've picked up the pieces and pushed the envelope of how to make Bucknell aware of more perspectives in general."
"[Kristin] has become an effective facilitator of dialogue among students and has earned the respect and admiration of her peers, and of faculty and staff," Associate Provost Robert Midkiff said. "It is always rewarding to see students become an effective self-advocate–it is even more rewarding when you see that student step out of their comfort zone and become an advocate for others."
One way Vallis has educated the University community is through the Safe Space program. At each of the conferences she attended, she presented workshops on the Safe Space program. One conference Vallis attended was the Out & Greek National LGBT & Ally Fraternity & Sorority Leadership Conference at Indiana University in Bloomington, Ind. This conference discussed the position of LGBT in Greek life. "Since Greek life is such a big thing on campus, it was awesome to discuss issues with other LGBT greeks," Vallis said.
"[During] presentations, she was an equal partner in our work," Midkiff said. "Her peers from other institutions were clearly inspired by her work in Safe Space as they eagerly sought to speak with her in greater detail about her experiences, the obstacles she encountered and how they might bring a program like Safe Space to their own campuses."
The Safe Space program has been in the University community for about 10 years, but approximately seven years ago, the University changed the program to have students engage with other students. This program is "unique to Bucknell because it is the only program with peer educators and a voting system," Vallis said.
"Although [the program is] simple definitions, the real gold mine is that peer educators tell peer strangers, 'Hey, this is my life here at Bucknell,'" Vallis said.
"I cannot think of a better woman to receive this honor," Walters said. "Kristin is a friend to all and a best friend to me. She has the ability to free a little nervous sophomore, strengthen a junior and love a senior.  Congratulations to Kristin, the woman who taught me more than I can ever express. Bucknell will truly lack a certain 'cool' once Kristin graduates."
"Kristin has conquered Bucknell in her four years and will leave it overflowing with cultural awareness, respect for all and the motivation for further change," Chelsea Burghoff '11 said.
Vallis has been extremely dedicated to educating the University community about the LGBT organization and Safe Space program.
"To quit water polo and leave the identity of an athlete was really hard for me," Vallis said.
While it was a tough time, Vallis was able to think about what was truly important to her. She put all of the discipline she learned from being an athlete into giving something back to the University, and that is why she was selected as one of this year's People of the Year.