By Amanda Ayers
News Editor
The Flying Bison has arrived on campus, and it's here to stay. At 4:30 p.m. on Wednesday afternoon, the colorful food truck pulled up to the Kenneth Langone Athletics and Recreation Center with Bucky the Bison in the passenger seat. The mobile culinary vehicle will offer fresh and authentic dining items for breakfast, lunch and a late-night period from midnight until 3 a.m. The truck will accept dining and campus dollars.
"Our main concerns included offering different options for students on campus, which will make dining more convenient," David Freeland, the resident district manager of Parkhurst Dining Services and primary designer of the truck, said. "We're not going to have all of the options that the Bison has, but the idea is that we will specialize in certain menu items and they will be fresh and tasty. The truck will be a destination station–-you'll go because you really want what is being offered."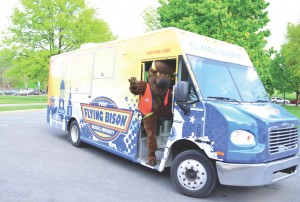 The truck will be at the Klarc "U" 7:30-9 a.m. Monday through Friday, between Dana Engineering Building and Delta Upsilon Fraternity 11:30 a.m. – 1:30 p.m. also on weekdays and at Vedder Circle midnight-3 a.m. Fridays and Saturdays.
"These locations are subject to change if business demands and students suggest a better location," Valerie Keller-Lee, general manager of retail operations for Dining Services, said.
Students are excited for this new late night dining option.
"Although I'm not really sure how to feel about the food truck, I know that if it's open from midnight to three in the morning, I will definitely be stopping by for a snack after a night out," Shaquille Anderson '15 said.
The Flying Bison lunch menu features Korean BBQ-inspired items like Jumbo Sweet Garlic Chili Wings, Sweet and Sour Pulled Pork Wonton Taco and Mandu Pan Fried Dumplings. The lunch menu will vary approximately every two weeks, rotating from Korean BBQ to gourmet grilled cheese options and Indian-style cuisine. 
"I think this is a good idea," Maddie Seymour '15 said. "I'm going there for lunch as soon as possible!"
For all-the-time offerings, the Flying Bison will serve garden salads, sandwiches and soups of the day, assorted soft drinks and treats such as the caramel sandwich cookies, lemon bars and whoopie pies. Breakfast at the food truck will include Starbucks coffee, yogurt, fresh fruit and items like grilled homemade cinnamon buns, fruit crepes and grilled croissants with caramelized pear, arugula, fried egg and havarti cheese.
"I can assure you that unveiling a food truck was not in the job description," President Bravman said on Wednesday before he officially cut the ribbon in front of the Flying Bison.